With Deploy, applications can be deployed fast and easy, at 'One Click'.
Binary Files
Multimedia Files
Script Files
Execution Files
Other Files as User Defines

Benefits
Easy and convenient binary management
Simple delivery of client binaries
Real-time monitoring at each deployment step
Deployment result notified by mail
Scenario setting regarding deployment
Supported on the web console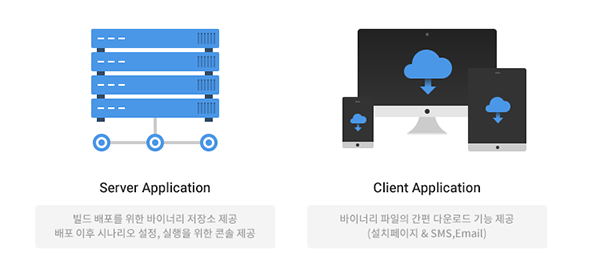 Features
Upload
Files are easily uploaded with the help of various uploading methods. * Uploading Interfaces * Web Console * Jenkins Plugin * REST API
Download
Notification for downloading links makes it easy to install and update apps.
Query Binaries
Binary data of the past remain to enable fast roll-backs.
Manage Deployment Projects
Infrastructure information of a project is integrated for an easy setting.
Manage (Execute) Deployment Scenario
User-defined commands are used to check server status after deployment.
Manage Deployment History
Deployment and previous binaries are managed by deployment history so as to secure stability.
Glossary
| Terms | Description |
| --- | --- |
| Artifact | Basic configuration unit of Deploy for deployment management |
| Server Group | Server group to execute scenario |
| Scenario | A collection of tasks to be executed on a server |
| Task | Unit of execution for the deployment process |
| Binary | User-uploaded files to deploy |
| Resource | Files to deploy which can be created, modified, and managed for history on a web console |